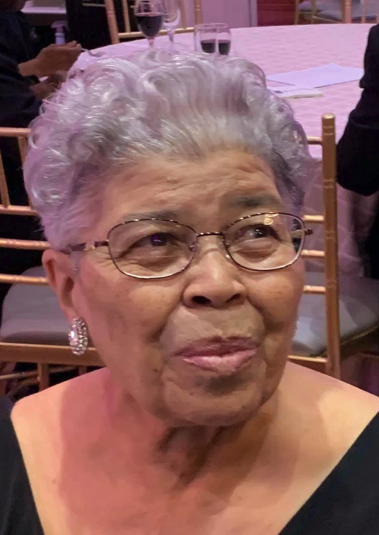 Obituary of Delores Quintyne
I have fought a good fight, I have finished my course, I have kept the faith. 2 Timothy 4:7 Delores Yaulander Jefferson - Quintyne affectionately known as "Ma," "Dee," "DeeDee Bum," "Diamond Dee," "DEE- Lores," "Grams," "Nana," was born on November 17, 1933 in Charlottesville, Virginia to the late Robert Lee Dearing and Madeline Jefferson. She met and married the love of her life, Irwin S. Quintyne, "the Navy man" who preceded her in death April 2004. Delores and Irwin married on November 23rd 1952 and to this union five loving children were born; together, they raised seven. She was a member of Bethel AME Church in Copiague where she faithfully attended Senior Bible Study, Vacation Bible School, and was a member of the Lay Organization. Delores received her early education in Charlottesville Virginia Public School. After graduating from the first African American high school, she relocated to New York City and attended City College of New York where she graduated with a double major in Sociology and Political Science. She also attended Lincoln University in Lincoln, Pennsylvania where she received her Master's degree in Human Services. Delores began her career in the New York Library as a library page and upgraded to library clerk. In 1961, Delores moved to Long Island, but continued her professional journey in New York City. She later obtained employment in the business office at Brunswick Hospital in Long Island. In 1966, she was offered a position with a local agency called A.C.E. (Amityville – Copiague - East Farmingdale) Community Center where her passion to serve the community catapulted. Delores worked tirelessly towards helping people to organize the community around various social, and economic issues to bring about change. She was an avid advocate for the community and the people around her. At A.C.E. Community Center, Delores assisted students attending college who needed financial aid, and she was also responsible for supervising a day camp program servicing 250 children and staff. She tutored students from Amityville, Copiague and East Farmingdale Schools in math, science, and reading. Additionally, through the resources at A.C.E., Delores was able to obtain space within the building to launch the Probation and Social Services Department that would help people in the community who were unable to travel to Hauppauge or Riverhead for these services; she provided services for job search employment, set up interviews at various companies such as Franklin Bank, Security National Bank, Grumman, and Fairchild. Delores advanced her career through hard work and dedication and retired as the Director of the A.C.E. Community Center after 25 years of service. As a community activist and excellent organizer, Delores was a founding member and the first woman chairperson of Suffolk County Congress of Racial Equality (C.O.R.E.). She provided leadership and unwavering support during demonstration. C.O.R.E began its history by picketing the Beach View Gardens Apartments in Amityville for discrimination against an African American couple on a cold snowy night. The demonstrations continued with sit-ins and civil disobedience where she was arrested. Delores protested and demonstrated for her community against Long Island Brewery Company for their hiring practices. She demonstrated against Hollis Warner Duck Farming, in Riverhead due to neglect of the migrant farm workers from down south. This endeavor was one of the most challenging acts of protest. She met with the CEO of Huntington Mall to advocate for jobs for the unemployed. In addition, she fought against segregation in Amityville and Copiague school districts for their hiring practices. She was arrested several times for fighting for education, employment, housing, and equal opportunity for all people. Delores was on the executive board of the Central Long Island Branch NAACP as a life member and often substituted as a teacher for Amityville School District. She was a committee member of the following committees: North Amityville Community Parade and Festival Day (Amityville Day), North Amityville Democratic Committee, 72 E.D., N.A.C.E.C. – CDC (North Amityville Community Economic Council) and Suffolk County Police Department Community Service Aide Program. In addition, she was a board member of both the Planning and Zoning Board for the Town of Babylon. She was the former President and Scholarship Chairperson of the Black Woman's Alliance, Inc., School Board Trustee for Amityville School District, Past Secretary of DARRNY NANE Civic Association, Den Mother for Cub Scouts at Bethel AME Church; secretary at Catherine B. Jones Day Care Center. To demonstrate her commitment to the youth, Delores filled in as the quarterback for a group of kids who needed an additional player so as to include all the kids that wanted to play. As she observed the situation, she offered to be the quarterback with one rule that she was not to be tackled. In many ways Delores "mothered" the community by working relentlessly in steering the youth door to door obtaining petitions to elect a North Amityville resident to the Town of Babylon. She also petitioned to have a drug rehabilitation center installed in North Amityville, and pressed to get residential housing built along Schleigel Blvd. Additionally, Delores was instrumental in ensuring that the infrastructure on Albany Avenue and Great Neck Road came to fruition. This building will house civil service, personnel and a municipal court. Delores has been the recipient of numerous awards to include the following: Trailblazer for Civil Rights (marched with Dr. Martin Luther King Jr.). "The Key" to the Town of Babylon, Bridge Builder- Living Legend Award from United North Amityville Youth Organization (UNAYO), Black Achievers Award from Bethel Day Care Center, Phenomenal Women Award from Mt. Nebo Missionary Baptist Church, The Matriarch of Our Community Service Award from North Amityville Old School Association, The Harriet Tubman Humanitarian Achievement Award from the Wilborn Temple First Church of God in Christ, Shero Award In Recognition of Outstanding Community Service from Long Island Nassau County Chapter, Advocacy Award from the National Coalition of 100 Black Women Suffolk County Chapter, Ambassadors Award for Excellence in Community Service from In The Word Ministries, Outstanding Service Community Activist Award from Grace Community Church, Women of Distinction Award from Assemblywoman Kimberly Jean Pierre, Frank B. Powell Humanitarian Award from Rotary Club of Amityville (adopted in the Senate on May 5th 2009), Lifetime Achievement Award (for her dedication to the Babylon Democratic Committee) from Suffolk County Chairman Richard Shaffer, Certificate of Appreciation from the North Amityville Beautification Society in the Town of Babylon, Appreciation Award (for her dedicated services to the youth) from Awareness Council of Amityville, In Recognition Award (for her dedication and support to the Teen Health & Infant Services Program) from The Babylon Youth Bureau, Rotary Gift of Life Award from the Mayor and Board of Trustees of the Village of Amityville, Office of the Supervisor Community Service Award from Supervisor Arthur Pitts, Keep Encouraging Youth, Inc Award from Senator Owen Johnson, Public Service Award from Suffolk County Police Dept., Community Service Awards from the following: Mike James (NBA Player on Mike James Day), Shaw Temple Church, American Cancer Society, Suffolk County Caucus of Black Democrats, Holy Trinity Baptist Church, and Amityville Head Start, Citizen of the Year Award from Omega Psi Phi Fraternity Inc. Special recognition awards from Assemblymen Robert Sweeney, Legislator Maxine Postal and finally the honoring of the Quintyne Family with a street in their name (Quintyne Drive). Another significant honor bestowed unto Delores was having the Student Activity Center at the Farmingdale State Campus named Delores Y. Quintyne Hall during a ceremony dedication on June 15th, 2021, signifying her legacy to community service. Delores leaves behind her children to cherish her memory and continue her legacy, daughters Madeline Quintyne- McConney (Irvine), Denise Quintyne-Baker (Nelson), Delores M. Quintyne, Theresa Quintyne Garran, her sons, Reginald Quintyne (Ruth Ann), Lee Quintyne (Lenita), David Boyce (Ruby), Irwin S. Quintyne, Jr. (preceded her in death), Sister Rosemarie Dearing, Brother Robert Jones (Katrinna), Sister-in-law Joyce Tinkler, Cousin Jacqueline Watkins, 12 grandchildren, Yvonne, Jeanine, Simonne, Michael, Cerise, Little Theresa, Marquell, Irwin the 3rd , Marcus, Cerrisa, Alexandra, Daniela. 17 Great grandchildren, Chevonne, Sheanine, Tyresa, Marshae, Michael Jr., Aarion, Dennis, Marquell Jr., Watalasia, Micoh, Alanna, Zion, Traysean, Quintin, Naomi, Antoine, Donovan. Great, Great grandchildren Shanelle, Kehlani, Khelani, Kali, goddaughter Dr. Deborah Duprey-Murphy, Terry Edwards, Bernice Coleman, Earline Dixon, Fran Bush, Regina Arvon, Dr. Harry Good and a host of nieces, nephews, cousins, and special friends.
To send flowers to the family or plant a tree in memory of Delores Quintyne, please visit Tribute Store
Wake
2:00 pm - 4:00 pm
Wednesday, April 13, 2022
Joseph A Slinger-Hasgill Funeral Service, Inc.
155 Sunrise Hwy.
Amityville, New York, United States
(631) 842-2788
Viewing
6:00 pm - 9:00 pm
Wednesday, April 13, 2022
Joseph A Slinger-Hasgill Funeral Service, Inc.
155 Sunrise Hwy.
Amityville, New York, United States
(631) 842-2788
Service
11:00 am - 12:30 pm
Thursday, April 14, 2022
Holy Trinity Baptist Church
300 Albany Avenue
Amityville, New York, United States
Burial
1:00 pm - 1:30 pm
Thursday, April 14, 2022
Amityville Cemetary
55 Harrison Avenue
Amityville, New York, United States
Share Your Memory of
Delores
Joseph A. Slinger-Hasgill Funeral Services, Inc.
155 Sunrise Hwy.
Amityville, NY 11701
Telephone: (631) 842-2788